The high-quality aluminium material and easy installation are the main advantages of the RENSON ventilation grill type 411. Ventilation louvres help to keep your home healthy by allowing fresh outdoor air to enter. Ventilation louvres guarantee proper air circulation indoors. Grills also have high water protection properties. And the built-in insect net keeps unwanted guests away.
RENSON WALL LOUVRES 411ZF TYPE
Made from aluminium sections: AlMgSi 0.5 (according to EN 12020-2)
Finishing: anodized in satin colour (20 micron) or powder-coated in any RAL or Syntha Pulvin colour (40 micron)
OPTIONS
Insect screen or mesh in stainless steel (2,3 x 2,3 mm)
DIMENSIONS
Blade pitch: 33,3 mm
Depth to fit: 29 mm
Flange size: 21 mm
Minimum dimensions: 100 x 100 mm
Without frame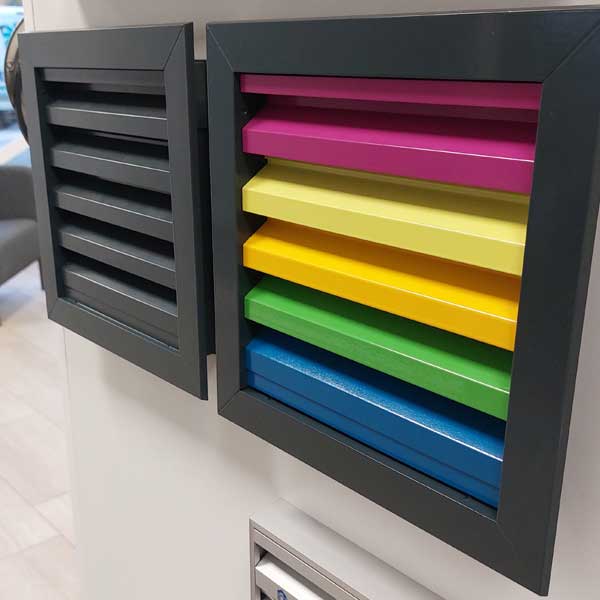 RENSON BUILT-IN WALL LOUVRES 411 use outdoor air to ventilate your home and keep the indoor climate healthy. Natural ventilation ensures constant flow to keep the indoor climate healthy.
Night cooling is a key benefit of ventilation grilles because you can keep the indoor temperature under control in summer. RENSON grilles contribute to the comfortable temperature of our homes.
And unlike an open window, insects and burglars don't have a chance to get in.
Renson® louvres are subjected to European testing (according to EN 13030: 2011) by the internationally accredited corporation BSRIA Ltd. During these tests, a louvre of 1m2, equipped with stainless steel mesh is exposed to downpours at a rate of 75 litres per hour and a wind speed of 13 m/second. The classification is based on the obtained results, i.e. the quantity of water infiltrating through the louvre.
| | | |
| --- | --- | --- |
| | Level | % watertightness |
| Very good rain protection | A | 100-99% |
| Good rain protection | B | 98,9-95% |
| Average rain protection | C | 94,9-80% |
| Low rain protection | D | <80% |
RENSON LOUVRES INSTALLATION
Installation of the ventilation grilles is quick and easy. It is fixed with practical clips that can be easily snapped into place. If it is necessary to install a ventilation grille on a surface larger than 3 m2, then we must also install strengthening support. You can see this in the figure below: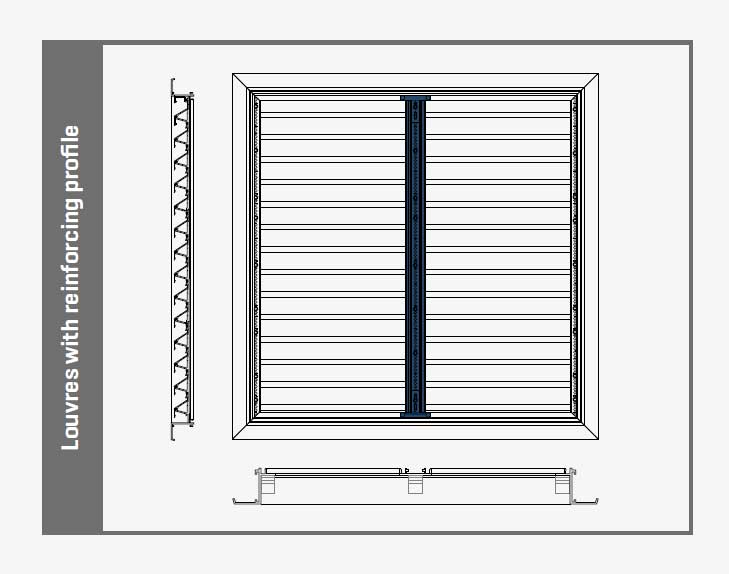 The ventilation grilles can be attached to the wall with a screw: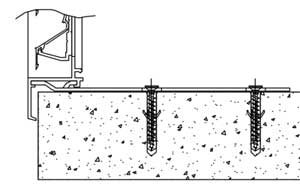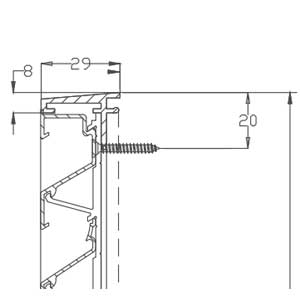 Built-in louvres are characterised by the overall width and height dimensions of the section to be built in. The dimensions of the opening in which these louvres are installed must always be 10 mm larger than the louvre dimensions.
The ventilation grills are available with extra water protection. The special water channels ensure even better rain-repellent features and improve the water protection of the lamellas.
This option should always be combined with a 2.3 x 2.3 mm insect net.
Due to their aesthetic appearance and the simple fixing of the ventilation grilles, RENSON ventilation grilles are a quick solution for the efficient ventilation of the building.
Read more about installation here!