Ventilation grill selection is simple using our calculator app!  From RENSON's wide range, you can find the right ventilation grill for every need. Before choosing the right ventilation grill, you must first clarify your needs, as we can choose from several additional options. If you have found a RENSON louvre that perfectly suits your needs, its installation will be quick and easy thank to the spring clamps and screw fastening.
How to select the suitable grill?
Use our calculator to find the perfect louvres for your project! You can quickly find the most suitable louvre. You have to give the custom dimensions and colour and choose from options like insect mesh or rear frame for installation.
If you want to order a ventilation grill in a unique colour and size, we can manufacture it! You can calculate the costs with the help of our calculator!
Our colleagues will help you to choose the right ventilation grill for your needs!
The first step is to register the custom dimensions, the type of fixing, finishong and colour. Choosing an integrated insect mesh is optional.
The last step is checking the planned air volume so our calculator can verify whether the requested size is suitable for that air volume.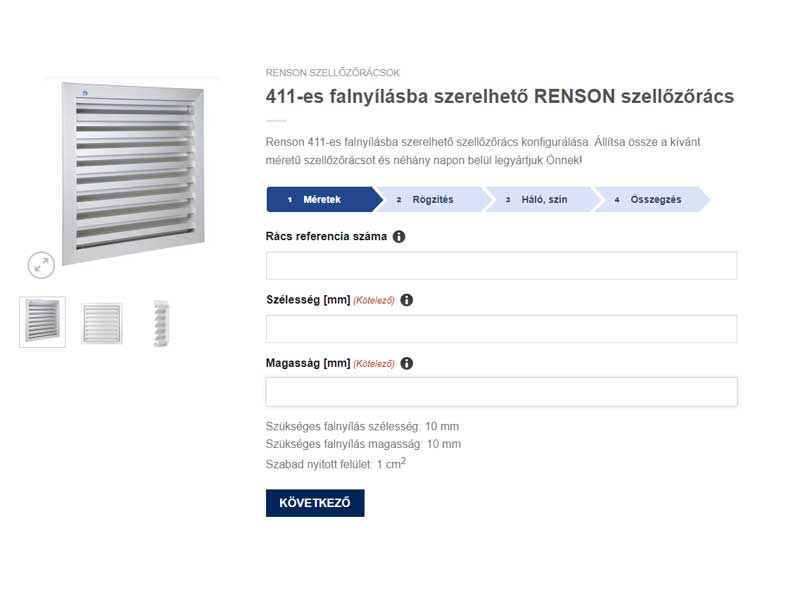 The calculator guides you step-by-step through the configuration of the desired ventilation grill! As a last step, it checks whether the required amount of suction air speed is correct, so you can be sure that the ventilation grill will satisfy all your needs! Ventilation grill selection is so simple using our calculator app!
After placing your order we start producing the requested ventilattion grill!
THE GRILL MANUFACTURING PROCESS STEP BY STEP