Mechanical ventilation system from RENSON! You can enjoy fresh, healthy air in your home or office with the help of a demand controlled ventilation system!
With efficient and partly or fully automated mechanical ventilation, Renson has a suitable solution for every project. Choose demand-driven ventilation system based on sensors to save energy and keep your indoor climate always healthy!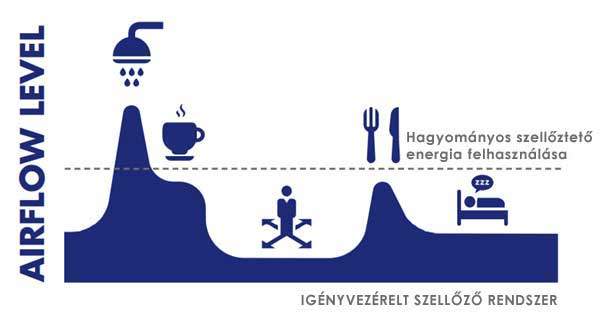 What is Demand-driven ventilation?
Renson's fully automated systems monitor the air quality and take action by themselves where needed. Continuous and controlled ventilation is your only guarantee of a healthy indoor climate. The polluted inside air is discharged and continuously replaced by fresh outside air.
THE DIFFERENT VENTILATION SYSTEMS
The ventilation standards NBN D50-001 and NEN 1087/8088 define 4 systems:
A, B, C and D
System A: Natural supply, natural extraction
System B: Mechanical supply, natural extraction
System C: Natural supply, mechanical extraction
System D: Mechanical supply, mechanical extraction
Next to these systems, Renson® offers demandcontrolled ventilation under the names:
System C+®: Natural supply, demand-controlled extraction per room
System D+®: Demand-controlled supply & extraction with heat recovery
System E+®: Natural supply, demandcontrolled mechanical extraction with heat recovery for domestic hot water and heating.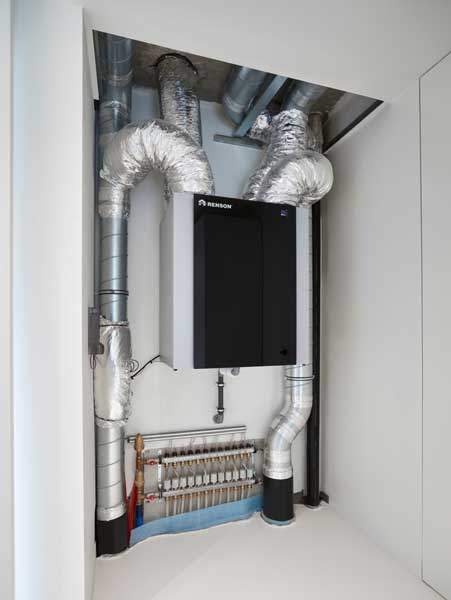 The Renson® C system
It is a not demand-controlled system with central extraction of polluted air. It must be combined with window vents to ensure healthy indoor climate by a constant and optimal flow of air.
A ventilation window louvre allows fresh air to enter and polluted air to exit, thanks to the no cross-ventilation and minimal energy losses due to the self-regulating non-return valve. Ideal to install into living room or bedroom windows.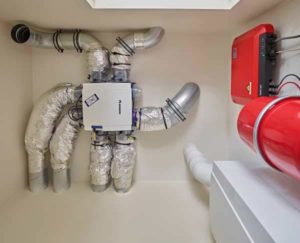 RENSON C+ SYSTEM: HEALTHBOX 3.0
The Renson® C+ systems use a combination of self-regulating Invisivent window ventilations and demand-controlled discharge ventilation (using room sensors) to create a pleasant and healthy indoor climate.
Each type C ventilation system in a home consists of at least a ventilation unit with an integrated fan. However, Renson® will keep innovating to raise this type of ventilation to a higher level to an intelligent, demand-controlled system, where the ventilation system adapts the discharge rate according to the needs and living pattern of the residents and the measured air quality.
DISCOVER RENSON HEALTHBOX 3.0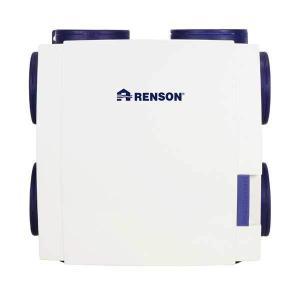 RENSON D+ SYSTEM: ENDURA DELTA
RENSON D+ System mechanical ventilation
The Renson® D+ system is based on a combination of demand-controlled ventilation (2 fans for air supply and air extraction) and heat recovery to create a pleasant indoor climate.
Benefits of Ensura Delta:
Can be used in new constructions
Mechanically supplied fresh air
Mechanically drainage of used air
Demand-driven ventilation thanks to integrated air quality sensors
High-efficiency heat exchanger for energy saving
DISCOVER renson endura delta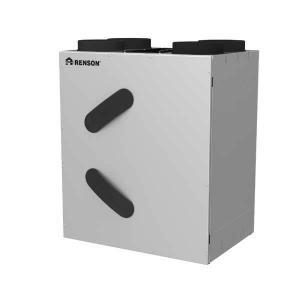 With the help of RENSON mechanical ventilation systems, you can create an extremely efficient, energy-saving, comfortable, reliable and quiet ventilation system. Demand-controlled ventilation is the most modern way of continuously supplying fresh air.